Employee review
Track employee performance to help give accurate feedback. Use this employee review template in Lucidspark. Sign up now to access this free template.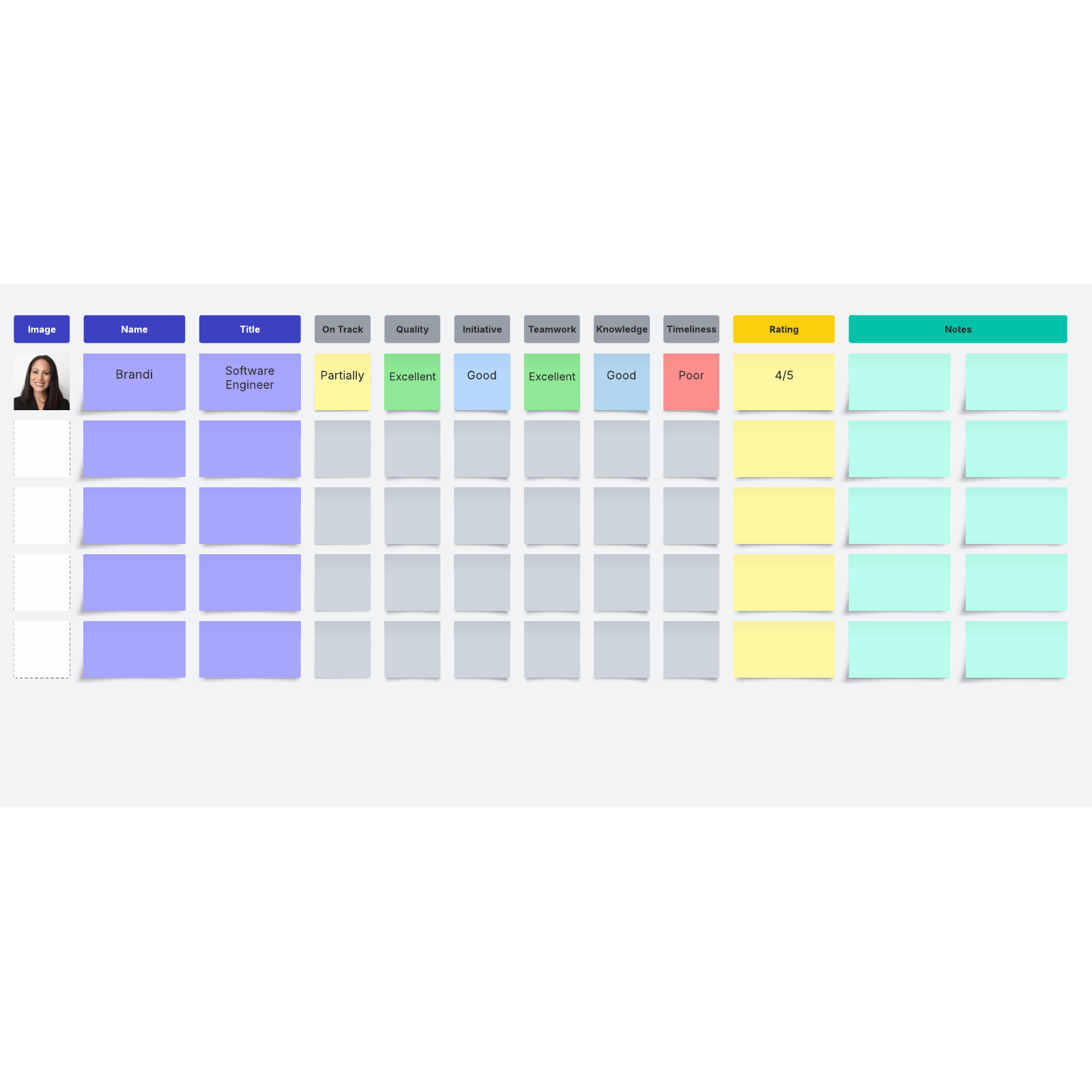 Enhance performance reviews with an employee review template
One of the most stressful parts of any management position is holding performance reviews. Aside from the inevitable difficult conversations you often need to have, you may also struggle to gather and apply the relevant data related to your employees' performances.
With the help of a customizable employee performance review template, however, you can more easily track employee performance and gather the necessary information.
Our Employee review template is a user-friendly, intuitive tool that you can use with any performance review process. It can be customized according to various performance metrics and provides a way to break down complex information into an easily digested summary. You can use it to get a clear picture of how the entire team is performing at a glance, and it can easily be shared with superiors to provide them with the same benefit.
Use the employee performance review template in Lucidspark
To get started:
Assign each employee a row. Add their employee ID photo, their name, and the title of their position to the relevant sections.
Use the pre-made column categories to assess each employee's quality, initiative, teamwork, knowledge, and timeliness, or replace these with your own metrics.
Assign each employee an overall rating and determine whether or not they are meeting company expectations.
Add any notes you have about each employee's performance in the "Notes" section.
You can use this template as a post-review summary for your entire team, or you can fill it out beforehand and use it as a guide for one-on-one performance reviews. Whatever purpose you need it to serve, the template will keep your information organized. You'll have the performance review information you need at your fingertips so you can more easily make clear improvement plans.