Brainwriting 6-3-5
Generate more ideas with your team. Using this brainwriting template, your team can collaborate in real time and build off each other's ideas.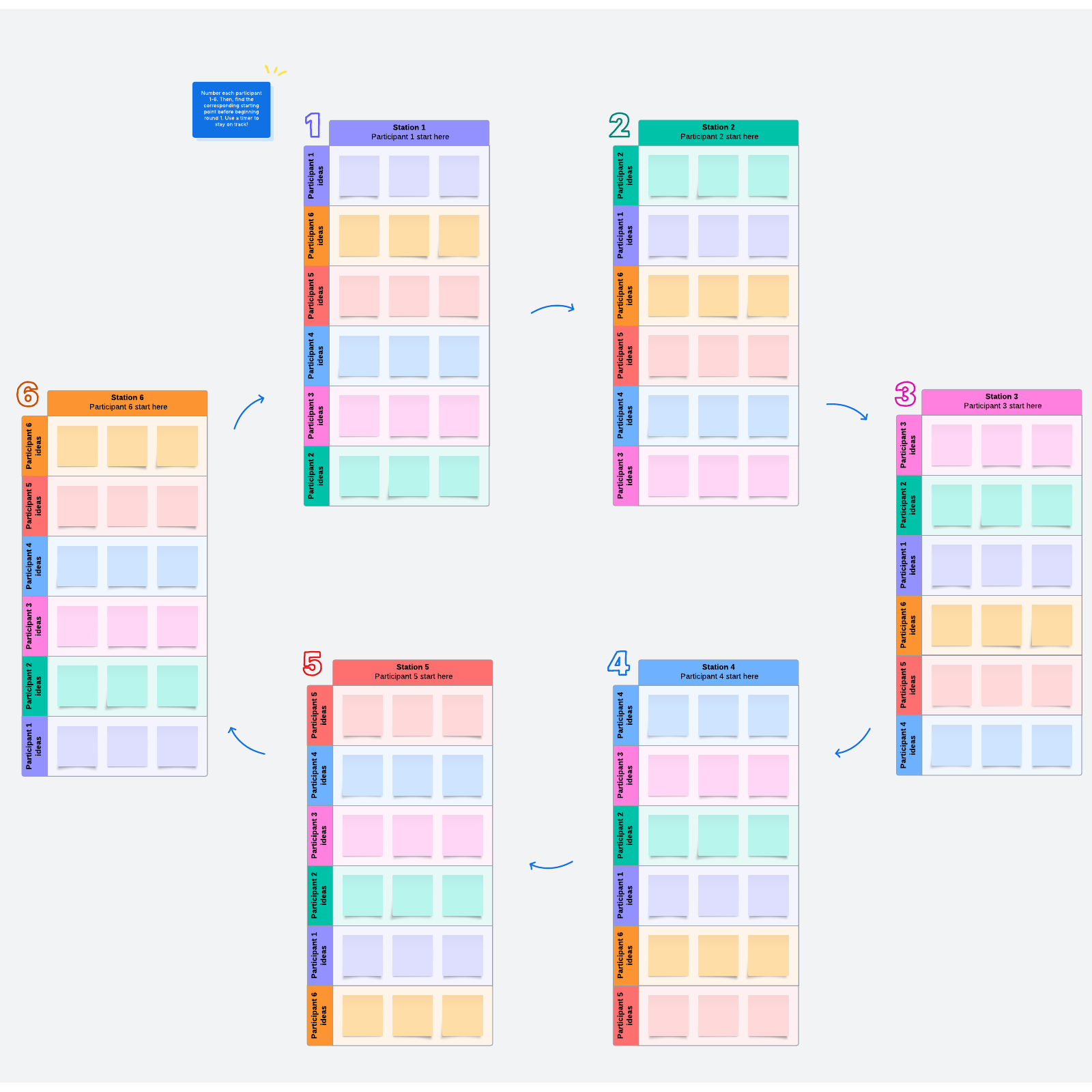 What is the 6-3-5 brainwriting technique?
6-3-5 brainwriting is a form of group-structured brainstorming meant to help teams generate and build upon their ideas. This method of brainstorming is part of the ideation step in the design thinking process, in which teams approach problems by prioritizing the customer's needs. It emphasizes the "yes and" approach to idea sharing, and its silent structure allows each member of the team an equal voice in the brainstorming process.
The 6-3-5 brainwriting technique involves six people, usually supervised by a moderator, writing down three ideas onto a sheet of paper within five minutes. Once the five minutes are complete, the paper is passed to the next team member, then the process begins again with each participant adding to the three ideas recorded by their team member. The exercise is completed five times for a total of 108 newly-generated ideas.
Benefits of the 6-3-5 brainwriting template
Typical team brainstorming sessions often yield the same types of ideas from the same few participants. A 6-3-5 brainwriting exercise allows each member of the team to have an equal voice in the ideation process–with less social pressure to explain ideas aloud in front of a group or agree with more popular ideas. The brainwriting method also yields a larger quantity of more creative and diverse approaches to problem solving, often within a shorter amount of time.
Our 6-3-5 brainwriting template provides the perfect amount of structure for your brainwriting sessions. Each idea is clearly represented on its own color-coordinated sticky note, so it's always clear who contributed each idea. Our template provides a central, organized location for all of your ideas, so you and your team can review, discuss, and surface your best ideas.
How to use the brainwriting 6-3-5 template in Lucidspark
Here's a quick step-by-step guide to using the Lucidspark 6-3-5 brainwriting template:
Open the brainwriting template on your virtual whiteboard and add the names of each participant to the column headings. If you're working remotely, use Lucidspark's Zoom integration to set up a remote brainwriting session.
Announce your topic or problem, then set an in-app timer for your first five-minute brainwriting exercise.
Once the five minutes are up, have participants move on to the next section of the board to add ideas.
Start the timer and begin the process again.