Whimsical vs. Lucidspark
Whimsical offers bare-bones functionality for creating visuals, while Lucidspark helps your team effectively ideate, create, and act in one collaborative platform.
Document ideas with unlimited potential

Whimsical requires users to start each board with one of four predetermined templates. With an infinite canvas and freehand drawing, Lucidspark lets you create whatever you want—unleash your creativity as you generate and record ideas.


Record ideas quickly with templates and more

Get started in Lucidspark quickly with templates for flowcharts, SWOT analysis, mind maps, and more—or add one to your canvas as you go. You can also create sticky notes with our Sticky Note Quick Add or create them in bulk by uploading text from any CSV or TXT document.


Collaborate in order to innovate

Whimsical doesn't support real-time collaboration the way that Lucidspark does. Easily share your board, chat with and follow collaborators, and even color-code updates by collaborator to pinpoint who's done what.

Take ideas from ideation to action

Whimsical's simplistic whiteboard and limited features lack the power to go beyond recording ideas. In Lucidspark, you can brainstorm effectively, host planning sessions, create workflows, and then turn it all into action.

Stay connected to the apps your team knows and loves

Without an integration in sight, Whimsical limits users to working within its canvas. Lucidspark keeps users connected with the power of popular apps like Slack, Google Drive, and of course, Lucidchart.

Start collaborating in Lucidspark
Bring your best ideas to life. Add team members to your first board now.
Sign up free
The features that set Lucidspark apart
Workshop ideas efficiently
In Lucidspark, you'll find the features you need to generate, organize, and take action on ideas. Facilitate working sessions with practical tools like an in-product timer to timebox various tasks, plus the Note Panel to keep your agenda, tasks, and documentation in order. Let users spread out to different locations within your canvas, and then call collaborators together to a specific area to present ideas and gain buy-in from your team.

Add structure to your creative process
Getting all of your team's ideas in one place can be a bit messy. Use Lucidspark to organize your ideas while encouraging fresher, more creative ways of thinking. With flexible containers and assisted grouping, you can experiment with how various ideas fit together to discover new patterns, themes, and insights. Tag and label individual ideas or entire groupings to categorize items and maintain order as your ideas evolve and take shape.

Highlight your best ideas with group consensus
Zero in on your best ideas while encouraging your entire team to take an active role in the ideation process. Whimsical offers basic voting functionality, but Lucidspark takes its voting feature a step further—you can select your method of voting, time your vote, and display the results of your vote directly within your canvas for your entire group to see. With convenient voting and clear results, you can ensure your team's voices are heard and build consensus as you workshop ideas.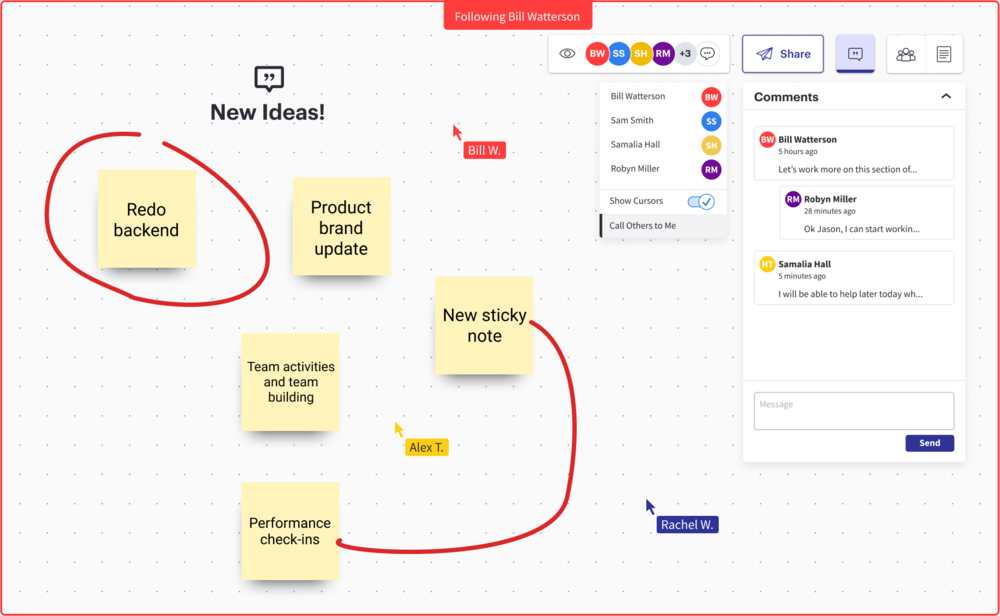 Communicate like you're in the same room, even when you're not
Lucidspark was built with collaboration in mind. Use Lucidspark to communicate efficiently and organically with your team members, whether you're working in the same room or across time zones. With easy-to-use features like in-editor chat and @mention comments, you can easily gather feedback and build on ideas with collaborators without ever leaving your canvas. You can even react with emojis for quick, easy, and lively communications.

Frequently asked questions about Lucidspark
Get a head start with templates