Mural vs. Lucidspark
Mural may work for your team when you need to brainstorm, but it's no match for Lucidspark when you're ready to convert ideas, meeting notes, and plans into effective action items.
An intuitive online whiteboard for seamless ideation and collaboration
Easy and organic collaboration for teams

Lucidspark was built to make collaboration simple. Share your board with others and give them access to edit, comment, or view. Choose to follow other collaborators so you can work together on specific projects within the canvas.

Advanced features to organize random thoughts and big ideas

Unlike Mural, Lucidspark offers assisted grouping and containers to help you and your team synthesize your work. Lucidspark even lets you upload entire CSV or TXT documents to create handy sticky notes in seconds.


Real-time voting to find your best ideas

Use Lucidspark to hold real-time voting sessions. Then create an easy-to-understand visualization of your team's votes to highlight winning ideas and make them actionable.


Freeform ideation that translates to action

While Mural is great for recording ideas, only Lucidspark has built-in functionality to turn your initial concepts into something more. Export your visuals directly to Lucidchart to create actionable artifacts, or import your Lucidchart diagrams into Lucidspark to keep brainstorming.

Start collaborating in Lucidspark
Bring your best ideas to life. Add team members to your first board now.
Sign up free
The features that make Lucidspark the only online whiteboard you'll ever need
Document ideas as quickly as you think them
Lucidspark's clean interface and infinite canvas offer limitless potential for capturing ideas and turning them into something bigger. Start with a template or drag one onto your canvas to add structure to your thoughts, business analyses, or tasks. For more freeform brainstorming, use sticky notes or draw freehand directly on your canvas to record and organize your ideas just as you imagine them.
Get all the benefits of an in-person brainstorm—with none of the hassle
Lucidspark can help you step outside the box and become more efficient as you brainstorm new ideas. Outline your meeting agenda, take organized notes, assign tasks, and more with our Note Panel. You can also maintain a productive pace throughout your meeting with our in-product timer. Digitally invite all of your participants to your area of the board to focus the group's attention and keep your team engaged on the task at hand. View everyone's contributions by using color-coded cursors, shapes, and lines for each collaborator.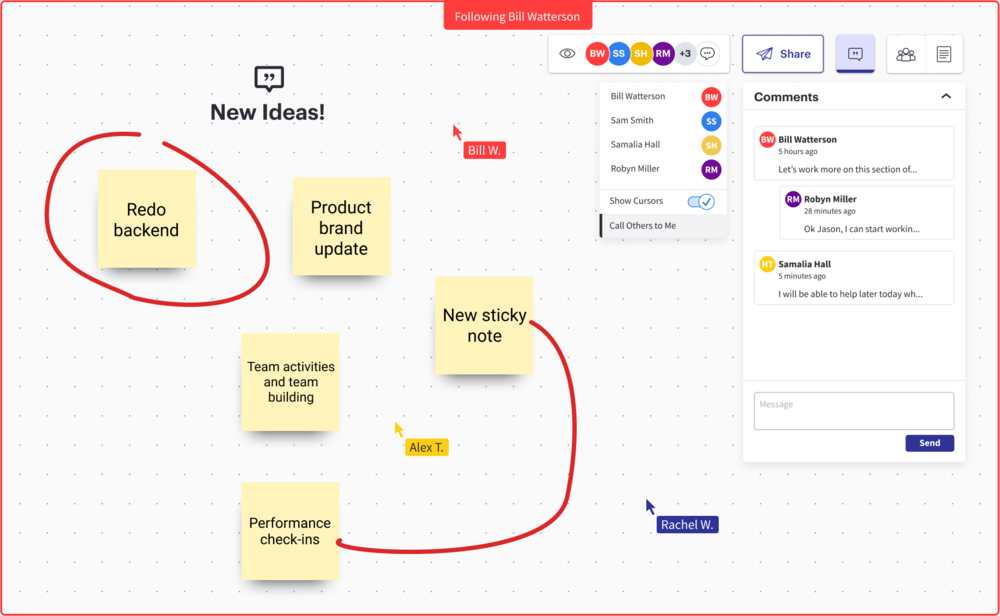 Communicate in real time for effortless teamwork
Lucidspark lets you communicate with colleagues in real time so you can track and build on ideas without losing creative momentum. Use our chat feature to clarify or generate new ideas with other users or solicit feedback on specific parts of your board using convenient @mentions. Turn on our follow feature to follow along with the collaborator of your choice to view all of their edits and updates as they happen.

Integrate with products you know and love
Lucidspark is fully integrated with Lucidchart, making it easy to move your Lucidspark boards directly to Lucidchart to create documentation that you and your team can build upon as your projects and organization evolve. Lucidspark also features integrations with popular apps like Slack, so you can share visuals in already established channels. Use our Google Drive integration to edit and share your Lucidspark boards using Google's user-friendly interface and team-friendly features.

Frequently asked questions about Lucidspark
Get a head start with templates