Miro vs Lucidspark
With Lucidspark, your team can more easily work together to surface the best ideas, synthesize your findings, and take action.
Why choose Lucidspark to improve your ideation process
Collaboration capabilities to help you work better together

Lucidspark was built for teams—share your board with colleagues and choose whether they can edit, comment on, or view. Choose to follow other collaborators so you can easily work together on an infinite board. Ideation is better together.


Powerful voting features to find your best solutions

Hold real-time voting sessions where collaborators can make their voices heard. Lucidspark not only tallies your votes but visualizes the results.

Streamlined integrations to move ideas forward

As an online whiteboard, Miro focuses on getting ideas out onto the page. Lucidspark helps you act on them. Export your work to Lucidchart to create a more polished deliverable, or import Lucidchart documents into Lucidspark to continue the ideation process. Have existing work in Miro that you don't want to lose? Import it straight into Lucidspark to keep all of your documentation in one, centralized place.
Start collaborating in Lucidspark
Bring your best ideas to life. Add team members to your first board now.
Sign up free
Features that put Lucidspark on the cutting edge
Document ideas
Your ideas have no limit when you have an infinite workspace. Start with one of our polished templates or add templates to the board as you work. Unleash your creativity and communicate abstract ideas with our freehand drawing feature. With Lucidspark, you can also capture and share your ideas quickly with our bulk sticky note import.
Workshop efficiently
Lucidspark offers a variety of features designed to help working sessions flow seamlessly. Stick to a schedule with the in-product timer. Use the Note Panel to stay organized as you outline the agenda, take notes, assign tasks, etc. Bring order to a brainstorm by bringing all participants to a specific area of the board.
Organize your thoughts
Understand how your ideas all fit together. Organize sticky notes and shapes into containers, and use assisted grouping and tags to help quickly classify ideas. Start a voting session and use the results to group ideas by collaborator preference. Find common themes and understand how to best move your ideas forward.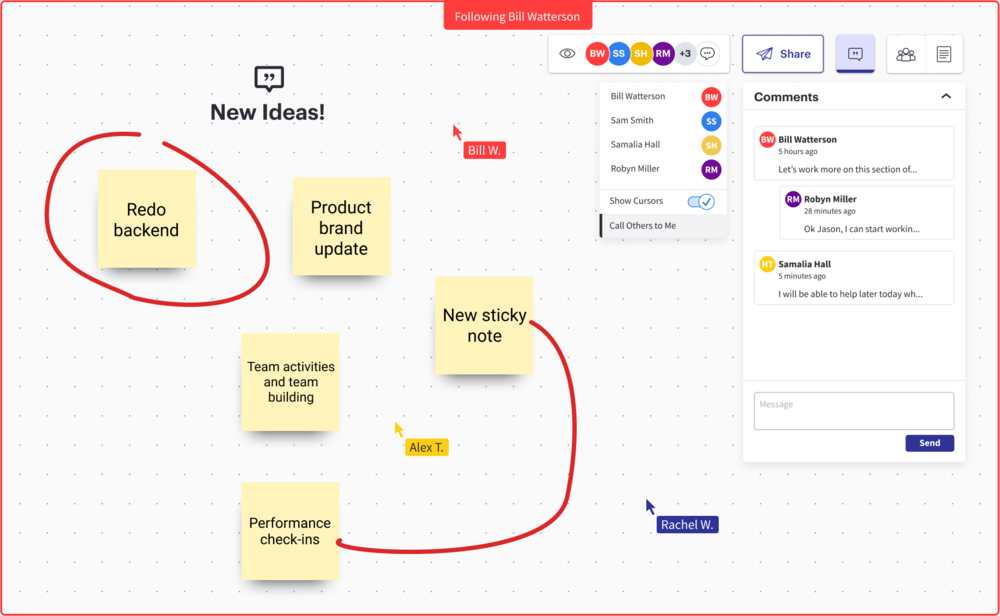 Communicate as you work
Communicate effectively without ever leaving your Lucidspark board. Hold conversations with our chat feature, and @mention collaborators to solicit feedback, resolve questions, or call attention to specific ideas. Collaborate in real time and easily identify who's contributing what with color-coded cursors, shapes, and lines. Work closely with specific collaborators by selecting to follow them around the board.

Work with the products you love
Make Lucidspark a part of your everyday workflow. Use our integration with Slack to easily share boards, receive notifications, start new boards, etc. Integrate with Google Drive to store boards in a central location and start new ones directly from the familiar Drive interface. Import documents from or export boards to Lucidchart, a visual workspace built on the same enterprise-grade, battle-tested platform as Lucidspark.

Frequently asked questions about Lucidspark
Get a head start with templates