Project planning canvas
Collaborate anywhere to visually plan your next project. Customizable frames allow you to make each section specific to your project requirements.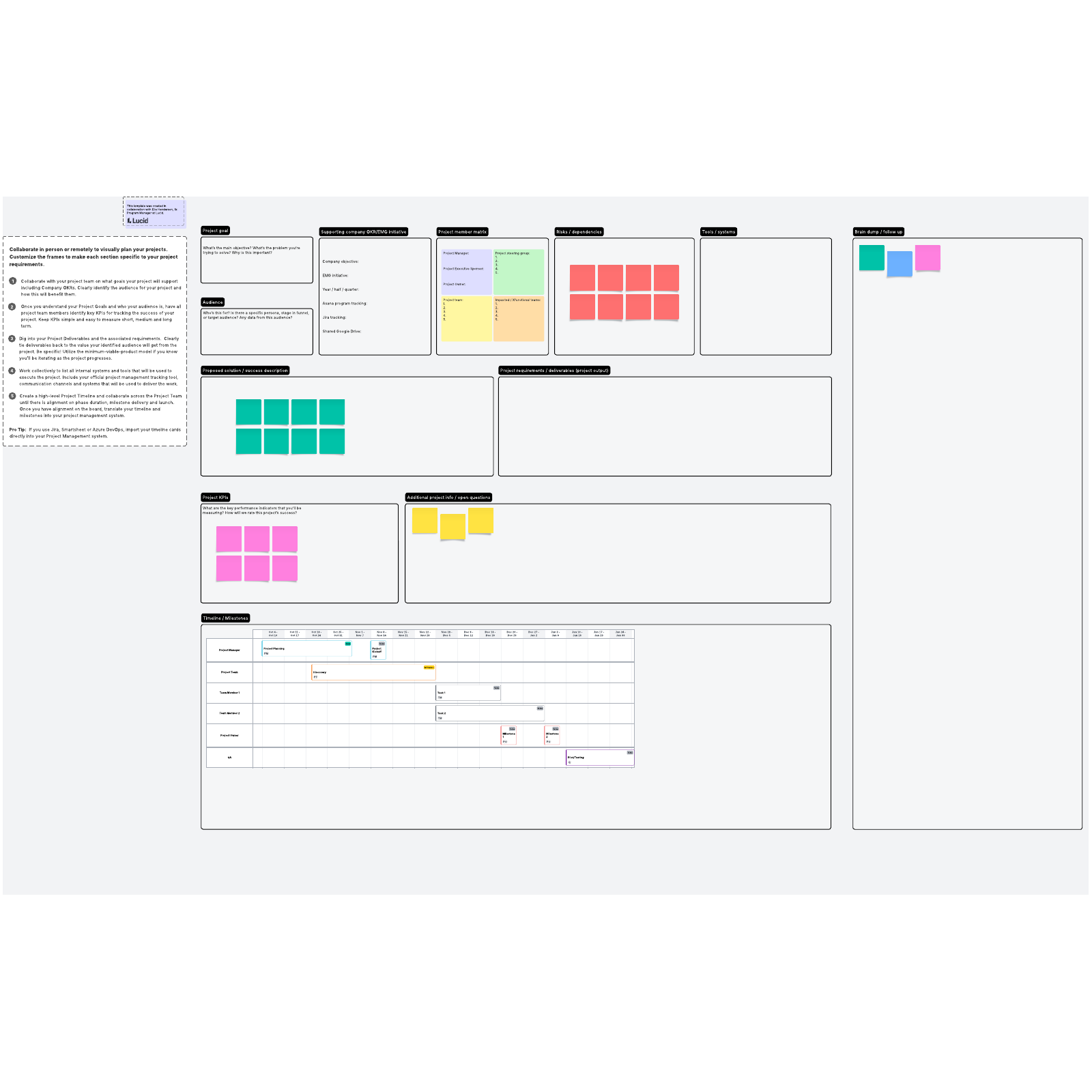 What is the project planning canvas?
If you're leading a project, you have a lot of information to keep track of. Large projects can get complicated quickly, especially if multiple stakeholders and teams are involved with different priorities and dependencies. This template helps you simplify things by keeping your planning in one place, complete with visuals and features to make sharing, communicating, and collaborating easy.
Use this project planning canvas to collaborate in person or remotely and visually plan your projects. While you can use the template as is, it's easy to adjust it to fit your project's specific needs.
Benefits of the project planning canvas
This canvas makes planning easier for you. When you have a lot of information to capture, a visual project plan like this one communicates that information quicker so you can keep on top of it. Simply planning even more by using the Timeline feature to proactively identify upcoming issues or impediments so you don't get thrown off course, and adjust the canvas as your priorities change so it always reflects the most up-to-date information.
The project planning canvas also helps other stakeholders. Everyone involved in your project will know that this template is the single source of truth instead of relying on multiple documents that they may or may not have access to and that could be out of date. You can also easily share and collaborate on this template with your stakeholders to get their feedback and buy-in.
How to use the project planning canvas template in Lucidspark
Work through the sections of the template, including the following:
Set goals
Identify KPIs
Determine deliverables
List internal tools and systems to be used
Create a timeline for the project
While you may initially start on this template on your own, you'll get better results if you collaborate with others, either from the beginning or when you've finished your first draft. Use comments or Paths to draw someone's attention to a specific part of the board if you need their feedback.
If you use Jira, Azure DevOps, or Smartsheet, you can integrate it with Lucidspark. Use Lucidspark Cards to import your action items directly into your project management system. That way, everyone will stay up to date on your project's status and needs.
Elle Henderson
Senior Program Manager, Lucid
Throughout a progressive career driving cross-functional project and program operations, Elle Henderson has worked diligently to develop a reputation as a forward-thinking and strategically minded leader that is team-oriented and goal and process driven. Elle works at Lucid as Senior Program Manager of Operations.