SCAMPER template
Use this SCAMPER template to answer questions based on specific actions like adapting and modifying that help uncover innovative solutions to problems.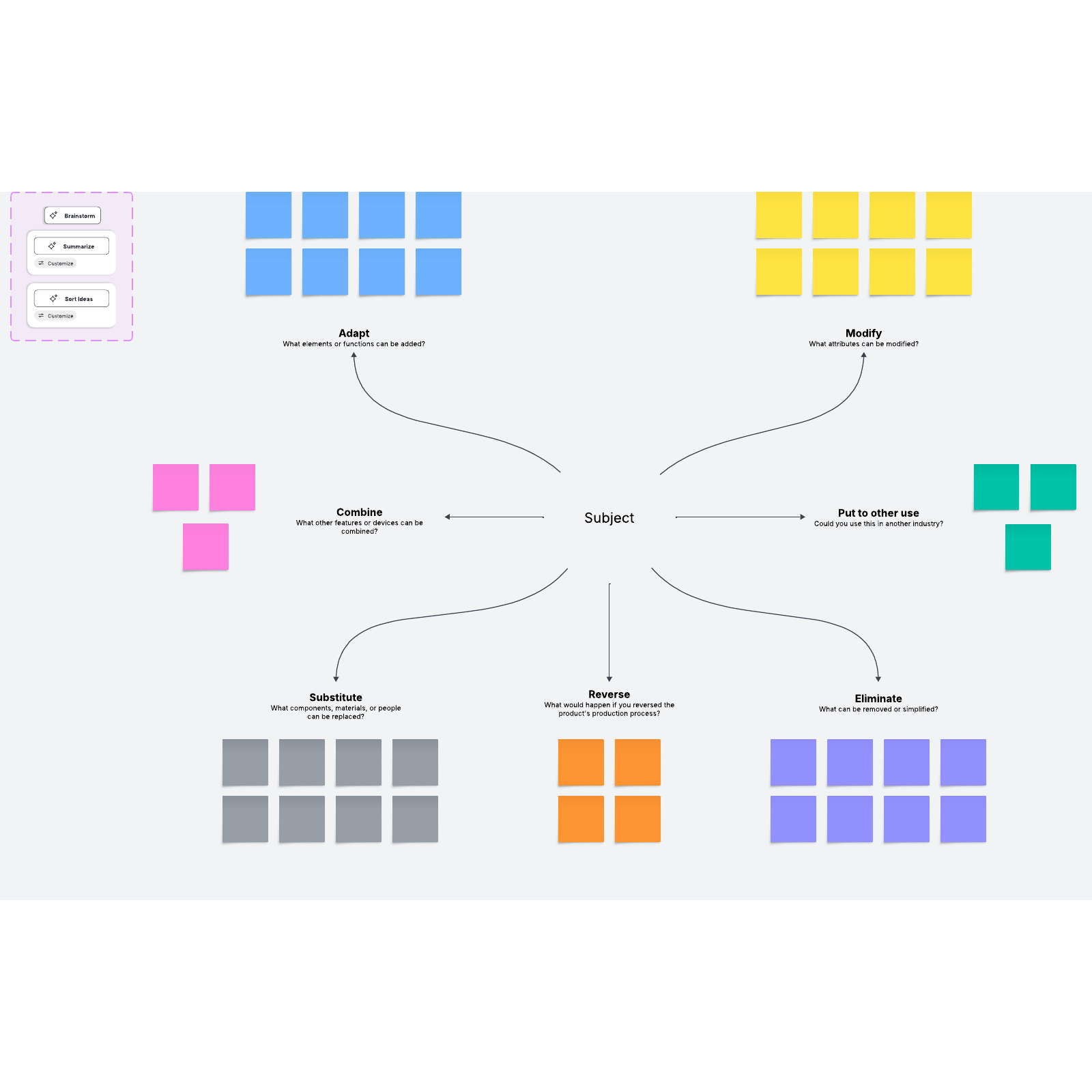 What is SCAMPER brainstorming?
Even the best-laid plans can sometimes go awry. If your team encounters setbacks with product management, marketing, or any other aspect of your business, SCAMPER ideation may provide you with the solutions you need.
SCAMPER brainstorming provides you with a collaborative framework that will help harness your team's creativity. Each letter in the acronym stands for a unique method to view and resolve the problem at hand: Substitute, Combine, Adapt, Modify, Put to other use, Eliminate, and Reverse.
As your team uses each lens to come up with problem-solving strategies, you'll be able to unlock a variety of fresh ideas. Lucidspark's SCAMPER framework makes it easy to keep all those ideas in the same place.
Use the SCAMPER framework to come up with innovative ideas
Brainstorming using the SCAMPER strategy is useful because it forces your team to come up with a variety of viable solutions to a problem rather than just sticking to old methodology. Since you have to come up with at least seven different potential fixes for the same issue, you'll have more ideas to work with.
This approach can be especially helpful if the problem at hand is persistent, pervasive, or simply requires an out-of-the-box solution that you haven't yet recognized.
How to use Lucidspark's customizable SCAMPER brainstorming template
Start your brainstorming session by sharing Lucidspark's SCAMPER template with your team. Explain the different categories or lenses included in the template, and assign different team members different collaborator colors if you need to keep track of everyone's ideas. Then, encourage your team to add their own sticky notes to the board under the following SCAMPER categories:
Substitute: What elements of the subject experiencing the problem can be changed? Can certain people, processes, or features be swapped with others?
Combine: What elements can be combined to create something different? Will certain combinations make up for certain weaknesses in sole components?
Adapt: What could be added? Is there something the subject lacks that is causing the problem?
Modify: Are there any existing elements that need to be changed? Is there something that could be changed for the better?
Put to other use: Are there components that are not serving their best purpose? Could these components be put to better use in another project or function?
Eliminate: Are there any existing elements that need to be removed, reduced, or simplified? What could potentially be scaled back to free up other resources?
Reverse: Are there processes that could be reordered for different outcomes?
After enough ideas have been added to the board, you can use Lucidspark's gather, and sort features to group contributions together and get a better idea of any common themes. Lead a discussion with your team about what you see on the board and narrow down the solutions you want to try implementing from there.
When you use SCAMPER brainstorming to get the ball rolling, you'll find that you and your team can come up with better solutions for any difficulty you may face.