SWOT analysis template
Edit this SWOT analysis template to easily identify all the strengths, weaknesses, opportunities, and threats related to your organization.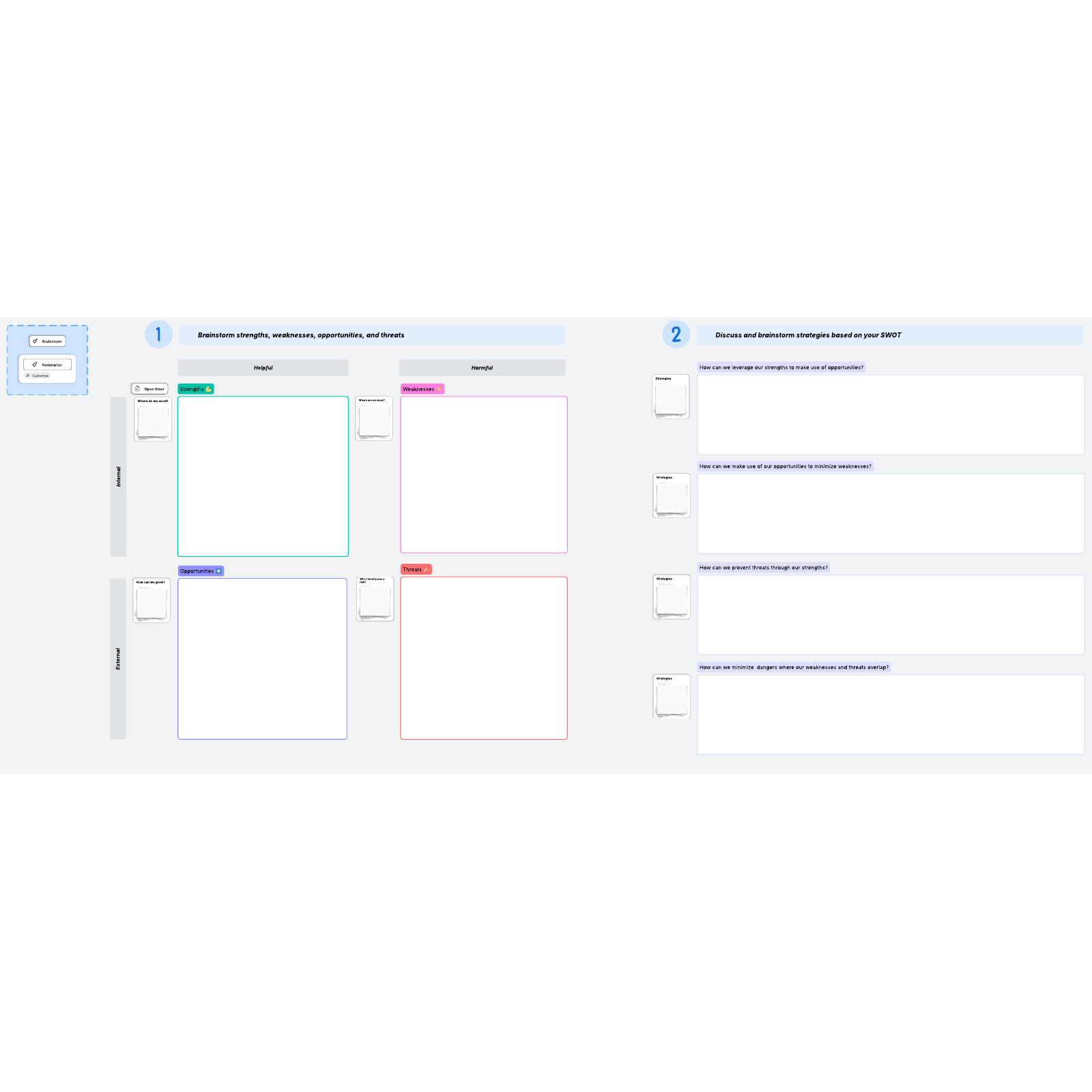 What is a SWOT analysis?
A SWOT analysis is essentially a detailed pros-and-cons list, and it helps you gather your thoughts about the state of your business and organize them.
SWOT stands for strengths, weaknesses, opportunities, and threats. You evaluate your business in these four areas to identify your organization's strengths and weaknesses and what opportunities and threats surround you. Thanks to the format's simplicity, anyone can do a SWOT analysis, but you'll still reap crucial insights to take action on.
When you should use our SWOT analysis template
A SWOT analysis is designed for strategic thinking: It's to help you understand where your business is and where you need to go next. Use this template when you're considering the big picture, like how to best launch a product, what features would best serve your customers, or how you can find new clients.
The format is flexible enough that you can use it for big and small issues, so whenever you need to take stock and think ahead, give this SWOT analysis template a shot.
How to conduct a SWOT analysis in Lucidspark
If you're ready to start your SWOT analysis, open our template and drag it onto an existing Lucidspark board. While you can do a SWOT analysis on your own, you'll get better ideas if you hear from other perspectives, so invite other people and make good use of Lucidspark's collaborative tools.
Start in the "Strengths" container. Add sticky notes with your ideas about what your business or team excels at, such as valuable expertise in niche areas or a product with a reputation for reliability.
When you're done, move to the "Weaknesses" container and do the same thing. Perhaps you don't have enough investor funding, or maybe your customers aren't satisfied with your level of service.
Next, move to the "Opportunities" container. While the previous areas were about internal factors in your business or team, now you need to think about external factors. For example, is there a market or economic trend on the horizon that could favor you? Is a competitor falling short in an area that you could dominate in? Fill out the "Threats" container in the same way.
As you fill out the four containers, you'll probably get more ideas about an area you've already filled out. Don't be afraid to go back and add that information! Pay attention to what your collaborators have to say as well - you can react to their comments and build off their insights.
When you and your team finish filling out the SWOT board, it's time to translate your ideas into action. Start a voting session in Lucidspark to determine the most important opportunities and threats, and make plans with your team for next steps - and come back to this SWOT analysis template whenever you need to pause and think about the bigger picture.