Sprint retrospective template
Use this retrospective template at the end of your team sprint. Ask team members to reflect and contribute feedback to improve processes and future sprints.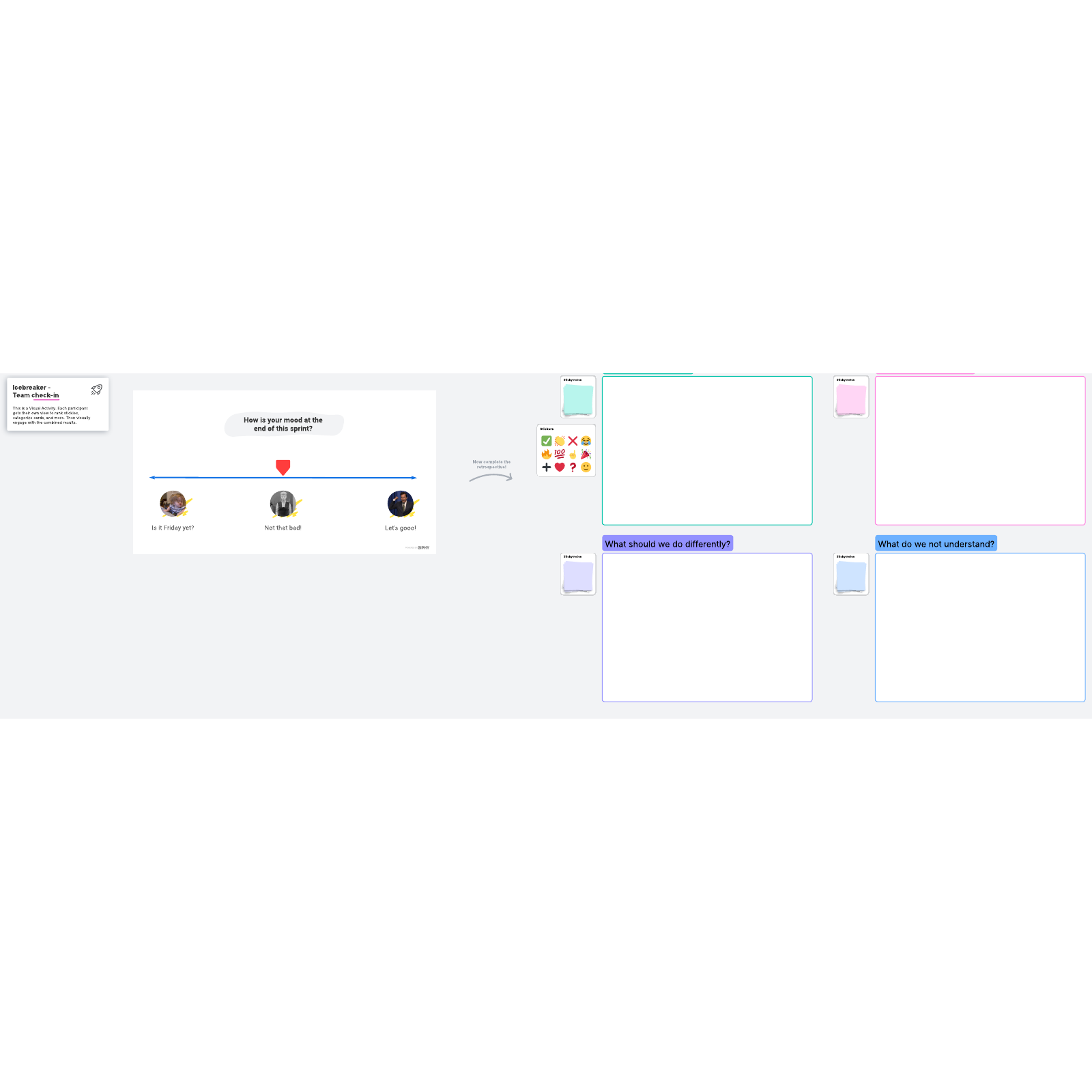 What is a sprint retrospective?
A sprint retrospective, typically used on Scrum teams or in other Agile models, is a recurring meeting that gives teams the opportunity to discuss what went well during the sprint, what could be improved, and how your team can make the next sprint more effective.
An agile sprint retrospective template can add some consistency to these meetings, encourage your team members to participate more, and even make teams more engaged through this process. Use the sprint retrospective template in Lucidspark to make the most of your evaluation.
How to run a sprint retrospective in Lucidspark
There are several different ways to hold a sprint retrospective meeting and more than a few templates out there, but our simple, four-point template is a great way to invite every member of the team to share their sprint retrospective ideas.
If you don't know how to run a sprint retrospective session or if you want to refine your reproach, our template can be very helpful. Simply follow these steps and adapt them for your specific needs:
Pull up the template on a Lucidspark board and share the board with your fellow team members.
Encourage team members to honestly answer the questions under each of the four squares: "What did we do well?" "What have we learned?" "What should we do differently?" and "What do we not understand?"
Allot time for team members to share their answers in each section via Lucidspark's quick stickies. You can use the built-in timer for each section to encourage quick responses and use your meeting time effectively. This step gives all team members, even those less likely to speak up in a meeting, the chance to share their perspectives.
Discuss the trends and individual answers you see on the board with the group and discuss plans for your next sprint based on everyone's feedback.
A productive, real-time collaborative discussion will be just the thing to solidify the lessons learned from your most recent agile sprint and prepare your team for your next project. If you want everyone to be involved in a collaborative meeting, especially in a remote setting, Lucidspark has the sprint retrospective template and tools to best assist you.
See additional tips on running effective sprint retrospectives.