PESTEL analysis template
A PESTEL analysis framework makes it easy to analyze and monitor the external marketing environmental factors that could impact your organization.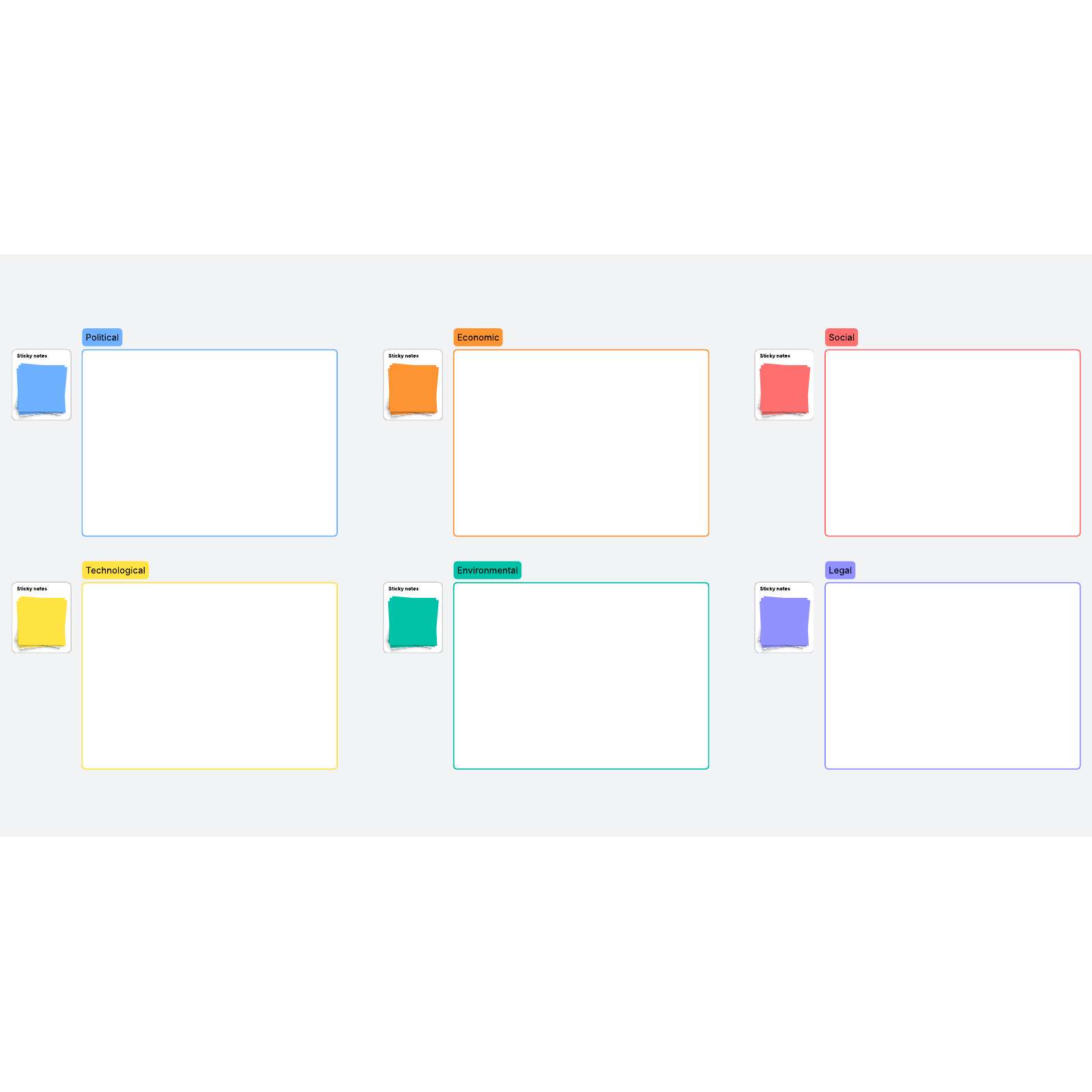 What is a PESTEL analysis?
PESTEL (sometimes also called PESTLE or PEST) is an acronym that stands for political factors, economic factors, social factors, technological factors, environmental factors, and legal factors. A PESTEL analysis, most commonly referred to as a PESTLE analysis, is a way for businesses to understand external factors that could affect the business. In other words: it's a way for organizations to look at the context in which they operate.
Benefits of a PESTLE analysis in an organization
While some may think a PESTLE analysis is primarily used for new businesses or for those hoping to enter a foreign market, it's useful for every business to undertake a PESTLE analysis to understand the full spectrum of factors that may impact the org.
While it's likely your organization has a vision statement and a clear understanding of where it would like to be in the future, it's less likely that your business has analyzed current external factors that may influence getting to where it would like to be. This is where the PESTEL framework comes in. If you're contemplating a reorganization, product offering expansion, marketing strategy overhaul, or any other significant change in the business, it's wise to undergo a PESTEL analysis.
How to use the Lucidspark PESTEL template
The Lucidspark PESTEL template is pre-built with six containers in which all six categories of external factors are listed.
1. Brainstorm factors across the PESTEL framework.
Start by brainstorming all the political factors that influence your business. Consider things like tax policies, regulation, tariffs, governmental stability, government subsidies, lobbying, and trade control. Each brainstorm contribution should be entered as a sticky note into the same container.
When brainstorming economic factors, think of inflation rates, exchange rates, interest rates, and consumers' disposable income, to name a few.
Examples of social factors include inflation, age, wealth distribution, social classes, lifestyle, crime, and religion.
Technological factors could include automation, innovation, and digital infrastructure.
For environmental factors, think of the natural world: weather, climate change, disasters, and renewable energy.
And finally, when you're brainstorming legal factors, consider things like education laws, antitrust laws, copyright laws, and any other laws that may impact your business.
2. Tag sticky notes to categorize ideas.
Use Lucidspark's tagging function to tag sticky notes that are especially important or that need to be analyzed more in-depth.
3. Sort the factors to visualize business impact.
With the sticky notes tagged, use Lucidspark's sort feature to automatically sort sticky notes by order of importance and easily visualize each factor's impact to the business.
4. Share your work.
Share the completed PESTEL analysis template with the click of a button so that stakeholders have access to the analysis whenever and wherever they need it.