Get to know you icebreaker
Use this icebreaker template to connect with your coworkers and find out what makes them unique.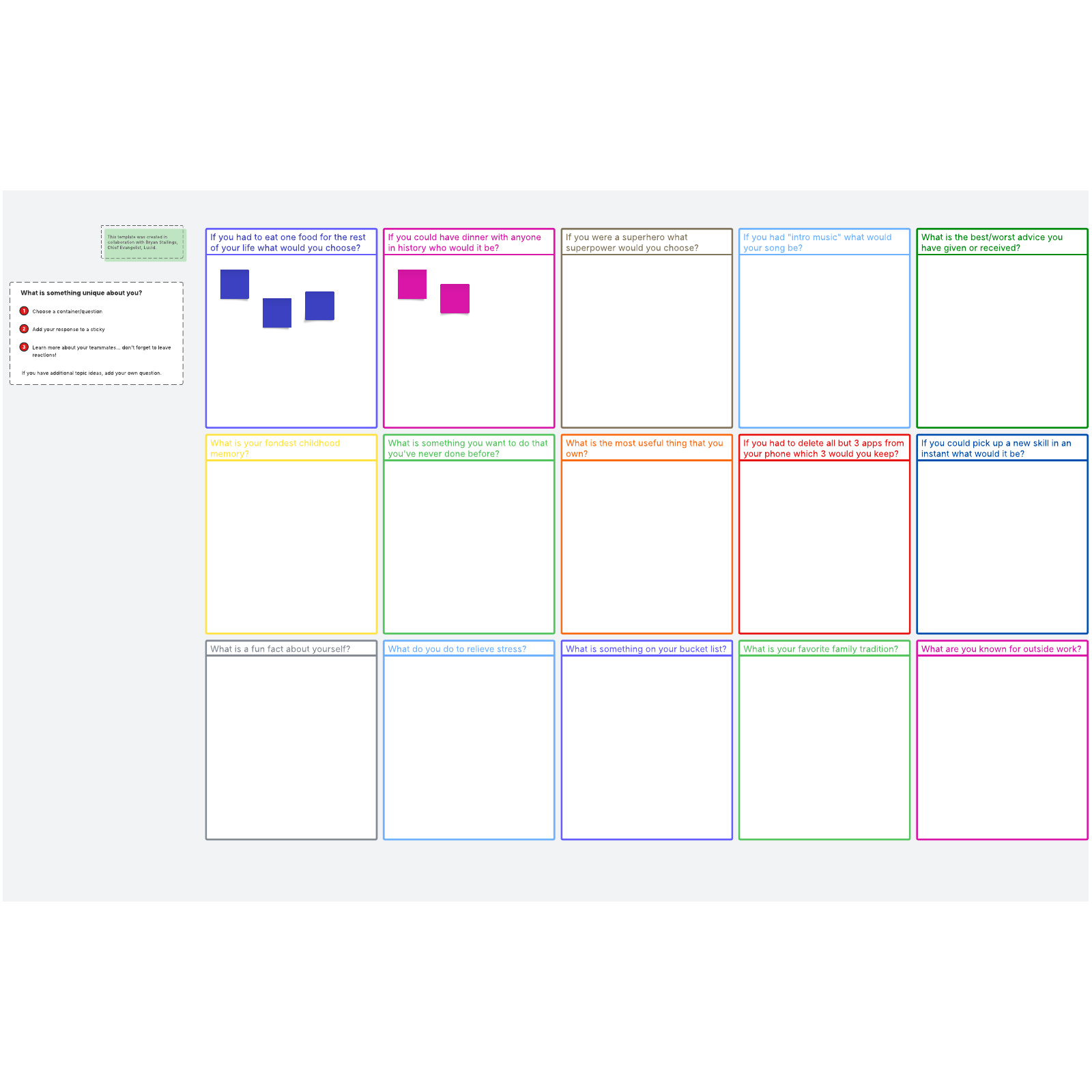 Make connections with this icebreaker game
If you're working remotely, you may worry that you won't be able to connect with the rest of your team, especially if you've never met in person. While building remote relationships can be tricky, you can still have great conversations with your co-workers—you just need some help getting started. This icebreaker game will get the conversation flowing and help you get to know your co-workers on a deeper level.
When you use this get to know you icebreaker game, you'll do more than just have fun and learn new facts about your colleagues. You'll build morale by showing your team members that you care about them as more than just employees.
Your team will also have better cohesion as co-workers learn more about each other, especially as the game helps participants open up and share more of themselves—if you have any shy people, this will be especially important in helping them feel comfortable in speaking up.
Lastly, your team will appreciate the break from the busyness of work and feel ready to tackle the next task. For additional insights on how to develop team relationships, in or out of the office, check out expert tips from Bryan Stallings.
How to use these get to know you icebreaker questions in Lucidspark
Try using this get to know you icebreaker at the beginning of a remote meeting to help participants relax, feel comfortable with their co-workers, and have fun.
Start by opening the template and sharing the Lucidspark board with your team members. Then all you have to do is choose a container with a question and add your response with a sticky note.
Your team might even decide to liven up their responses with GIFs, images, or icons.
As you read your teammates' answers, don't forget to respond! You can leave an emoji reaction or a comment to deepen the conversation. When you're finished with the game, your team should feel less stressed and more ready to jump into the business of the meeting.
You can also use this template asynchronously if your team works on very different schedules. Whether you play at the same time or when you have a moment, you'll reap the benefits.
Bryan Stallings
Chief Evangelist at Lucid
As Chief Evangelist at Lucid Software and Certified Scrum Trainer, Bryan Stallings has coached thousands of individuals and teams in Agile and Scrum techniques.