Gantt chart template
Modify this Gantt chart template to start planning and managing your projects quickly. Collaborate with others to align on tasks and deadlines and to track progress.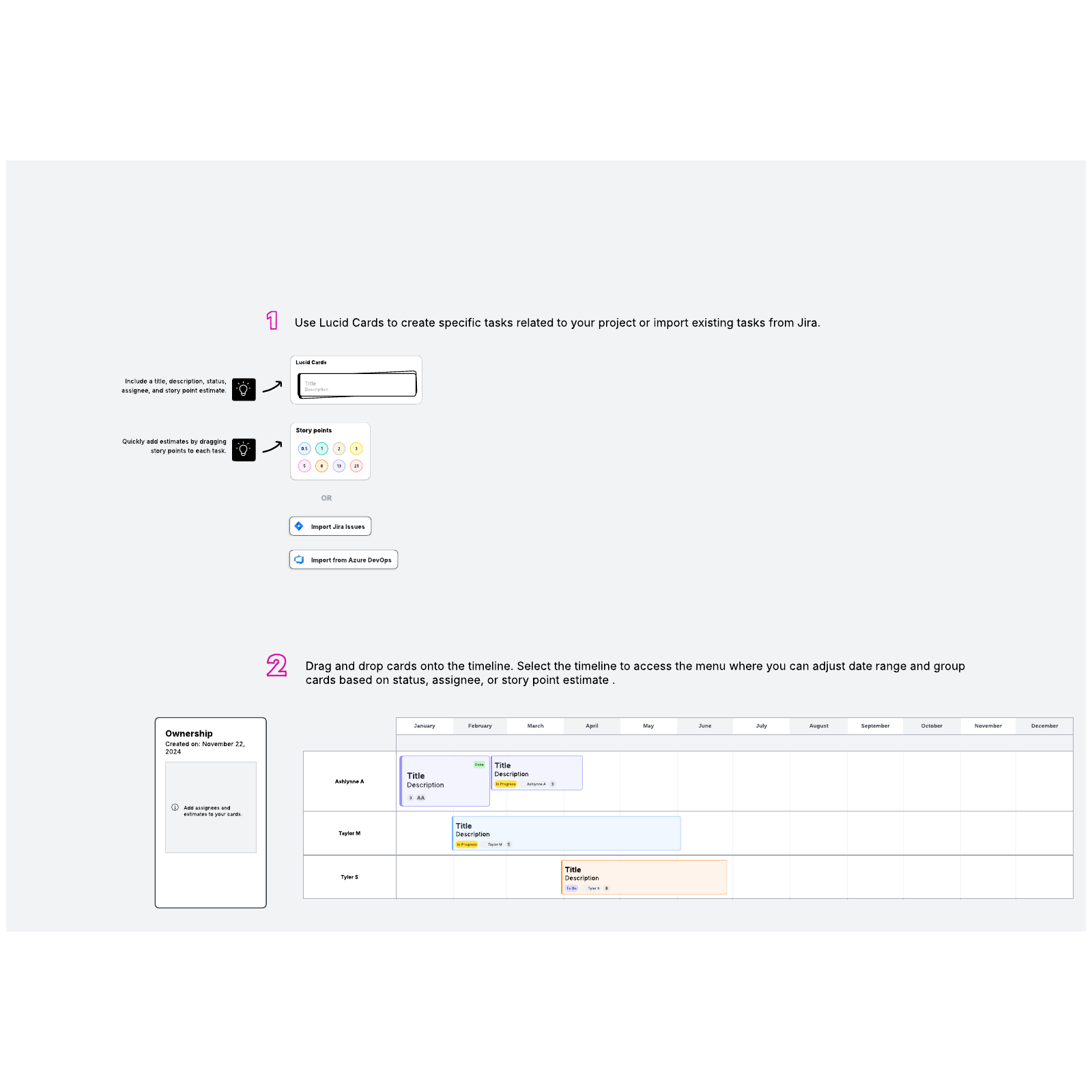 Plan out your project timeline with our Gantt chart template
Gantt charts are useful tools for project management because they give everyone on the team a clear picture of what tasks need to be completed when. Try our Gantt chart template in Lucidspark to give your team—whether they are in-office, remote, or a hybrid of the two—a leg up on your next project.
What is a Gantt chart?
Gantt charts divide your project into its constituent tasks while showing who is responsible for what and when. Essentially, a Gantt chart is an organized timeline of your project's moving parts, broken down so that everyone understands their role.
When to use a Gantt chart
If your project involves tasks that need to be completed in a certain order or has a number of tasks that are required for a single outcome, a Gantt chart can keep everyone on the same page. Gantt charts are an excellent tool for any team that divides projects into separate tasks to be completed by different individuals or teams.
Teams that work remotely, especially, can benefit from including a Gantt chart template in their project planning. When your team doesn't work together in the same office, communication becomes even more important, and a Gantt chart can be a handy way for everyone to grasp the big picture and to collaborate effectively.
How to make a Gantt chart in Lucidspark
Lucidspark offers a Gantt chart template that you can incorporate directly into your virtual project planning session. You can either open the session with the template or upload it to your whiteboard in the middle of your session when your team is ready for an actionable plan.
Once the template is in place, you and your team can easily modify it to fit your needs. Just follow these steps:
List the tasks required in this project on the left side of the Gantt chart.
Adjust the timeline at the top of the Gantt chart to reflect the expected length of the project.
Assign a color to each team member who is completing tasks within this project, and update the legend at the bottom of the Gantt chart.
Allow everyone to add their allotted tasks to the chart in their respective colors. Each team member can copy, drag, and drop bars and add specific names, tasks, and date ranges to the basic template to create a specific, detailed plan for your project.
You can even use Lucidspark's Jira, Azure DevOps, or Smartsheet integrations to import data into your template or export data from the template into these applications for greater convenience. Whatever your needs, our customizable Gantt chart template can provide your project with a clear direction.