Flowchart template
Use this flowchart template to map out the steps of any system or process. Collaborate with others to visualize current state, identify bottlenecks, and make improvements.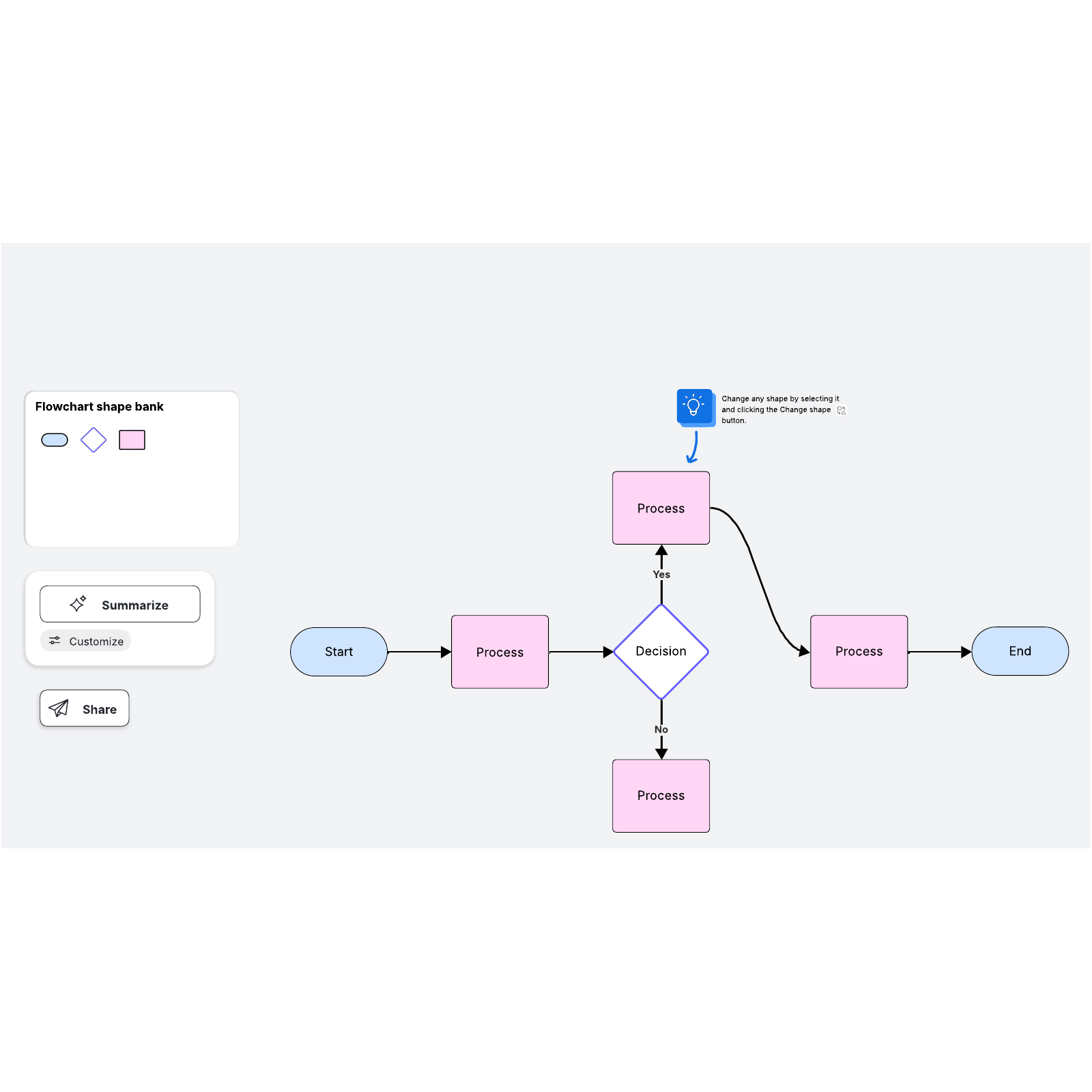 What is a flowchart?
The flowchart is one of the most basic and commonly used visual tools for workflow and process management. Simply put, it breaks down the chronological steps and phases of a process, from beginning to end, using a series of symbols, colors, and shapes connected by arrows. Its straightforward design makes it the ideal tool for analyzing, managing, and developing workflows in a variety of settings.
Common symbols used in flowcharts
Flowcharts can vary in their complexity, depending on the process or workflow. However, most flowcharts rely on a few basic shapes and symbols to convey different parts of a process:
Ovals: Signify both the beginning and end of a process
Arrows: Represent directional flow
Diamonds: Represent a decision that needs to be made in order to proceed
Rectangles: Depict the different steps and actions that need to happen within a process
Benefits of using a process flowchart template
Here are a few of the benefits that come with using a process flowchart template:
Clearer processes and workflows: No matter how complex a process might be, a flowchart can provide a clear visualization of each step, decision, and action item within a workflow. With each step clearly communicated, stakeholders can easily standardize processes, track progress, and identify bottlenecks.
Increased efficiency: The flowchart's simple layout makes it the ideal tool for analyzing any process or workflow from beginning to end. Using a flowchart, teams and stakeholders can identify unnecessary steps to save time and resources or resequence events for optimal efficiency.
Instant communication: Process flowcharts clearly communicate entire processes with a single document, saving valuable time and preventing potential miscommunication. Team members can gain an instant understanding of what a process requires, as well as their role in achieving the desired end result.
Ready-to-use documentation: Flowcharts allow teams to document entire processes and workflows to use during planning sessions, share across organizations, or keep for analysis and process improvement once a project is completed.
How to use our blank flowchart template in Lucidspark
Lucidspark's process flowchart template is built for fast and easy flowchart creation. Visualize, edit, and share your process with your collaborators.
Choose your template: Start directly within a blank template or drag it onto your workspace to begin building out your process. From there, you can add, rearrange, and customize flowchart symbols to accurately represent each step of your workflow.
Add finishing touches: Easily customize each part of your template to suit your team's needs, from shape color to line thickness. You can also embed relevant content or documentation within your visual to support your process.
Include stakeholders: Invite others to collaborate on your flowchart to ensure accuracy and get feedback before moving forward. Use freehand drawing, sticky notes, and comments to highlight areas that need improvement or give a stamp of approval.
Share and document: Send your visual to others with a shareable link or import it directly to Lucidchart, where you can build out a more formal process and even link data.