Brainwriting template
Need to generate lots of ideas? Try 6-3-5 brainwriting. Gather six people and have them write down three ideas in five minutes to help make decisions as needed.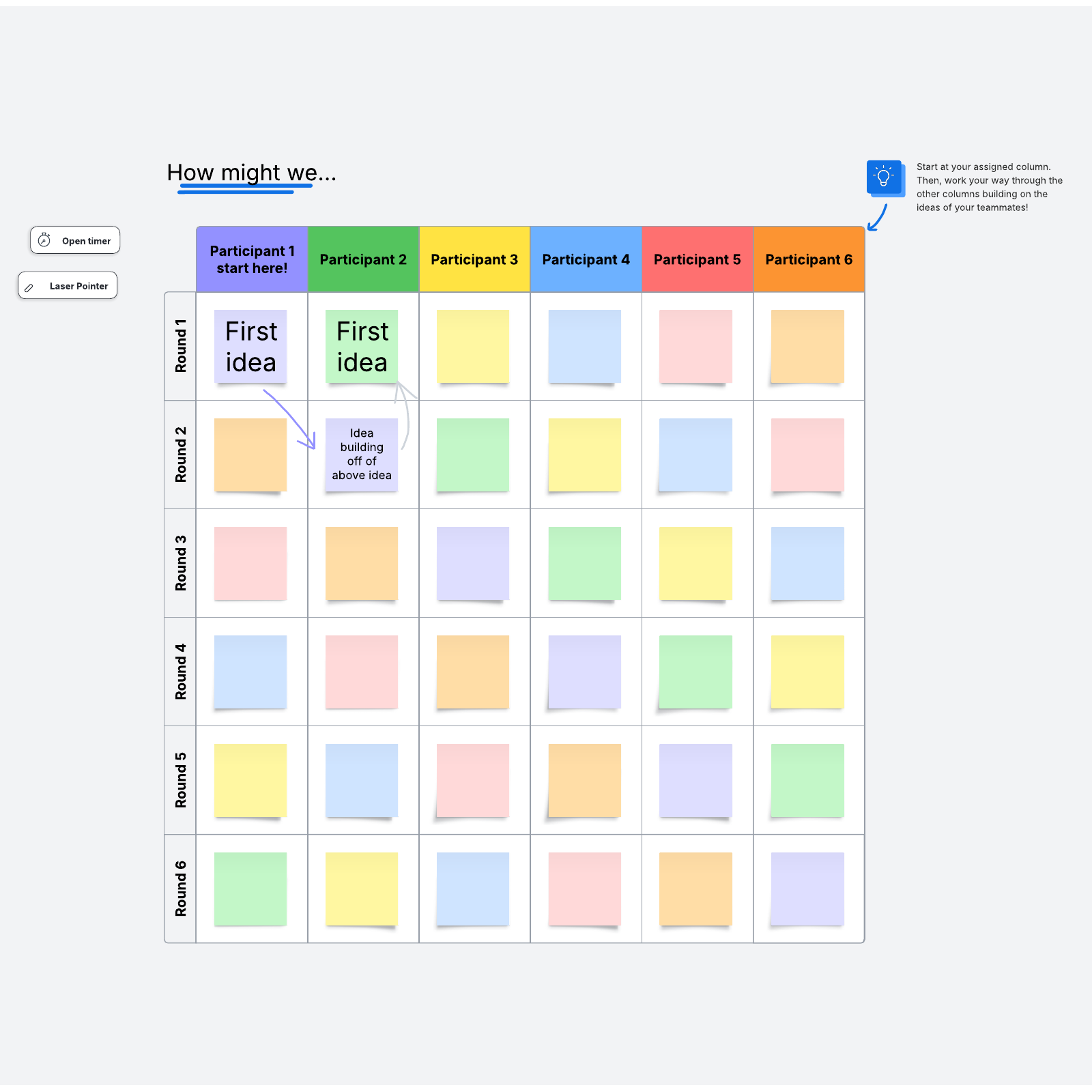 What is brainwriting?
Brainwriting is a technique used to stimulate creativity among teams. Rather than team members shouting over each other, the brainwriting technique invites them to write down their ideas on sticky notes for a few minutes. The sticky notes are then passed to others, and more ideas are added to them.
This process repeats for 10-15 minutes before collecting all of the sticky notes and discussing each concept as a group. Our brainwriting template is simple and easy to use and can provide valuable feedback in a structured way.
Brainstorming vs. brainwriting
Brainwriting is different from brainstorming because ideas are written down and shared among the group. It is more structured than typical brainstorming. Both techniques are used for ideation; however, brainwriting is more organized and thought to spark more creativity. Our brainwriting template gives a voice to each individual so that you can be confident that everyone's ideas are heard.
Benefits of a brainwriting exercise
The brainwriting technique offers several benefits and can work for a variety of groups.
Brainwriting is effective for large groups because it is quiet and structured. Brainstorming wouldn't make sense for a team of 100 people because that would involve lots of ideas being shouted out.
The act of writing down ideas stimulates enhanced creativity. Team members are better able to generate original thoughts.
Traditionally, the loudest idea wins. Brainwriting gives everyone an equal opportunity to write down their ideas. Quiet group members will feel more comfortable sharing their thoughts.
How to use our brainwriting template
Start generating new ideas. Using the Lucidspark brainwriting template, your team can collaborate in real-time and build off each other's thoughts about important topics.
Step 1. Open the brainwriting template. Add each participant's name to the column headings. Invite them to the board.
Step 2. Explain the topic/problem and set a 5-minute timer. This is the first round of the brainwriting exercise.
Step 3. When the timer finishes, instruct participants to move their ideas to the person on their right.
Step 4. Start the timer again and ask participants to add their ideas to the sticky notes.
Step 5. Repeat Step 4. When the session ends, review the ideas and discuss them with the team. Use the sort and vote features to see which ideas are most beneficial for your group.