1 on 1 meeting template
Use this template to keep your one on one meetings more productive. Track accomplishments and facilitate discussion around wins, blocks and feedback.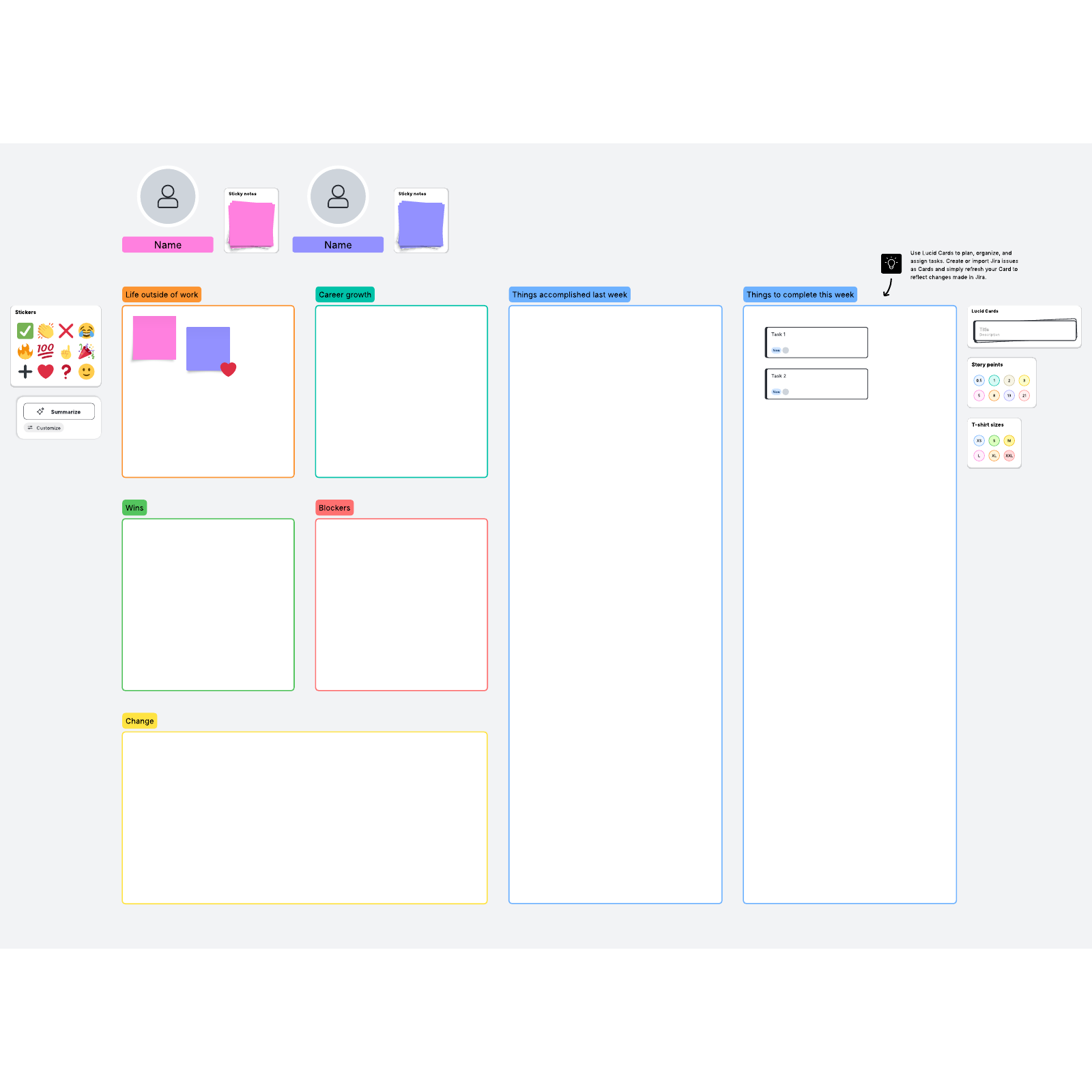 Hold effective 1:1 meetings with a 1:1 meeting template
If you're in a management position, checking in with employees on a regular basis likely comprises one of your most important duties. These one-on-one meetings give you a crucial opportunity to discuss an employee's work performance, job satisfaction, and overall well-being. Such check-ins become even more important when you work with a remote team.
While one-on-one meetings may become routine, you should take care to ensure that they remain productive and efficient. One of the best ways to accomplish this is to share a customizable one-on-one meeting agenda with an employee before your meeting.
Benefits of creating a 1:1 meeting agenda
When you and your employee have access to a 1:1 meeting agenda template, you'll both have an idea of the discussion you want to have before the meeting takes place. You'll be able to address important items and questions right away instead of spending time thinking of them during the meeting. You'll also be able to take effective notes that you can both access later for future meetings and assignments.
How to use the 1:1 meeting template in Lucidspark
You can use Lucidspark's 1:1 meeting template to guide your one-on-one meetings. Simply share the template with your employee before your meeting so they know what you plan to discuss, and have them fill out each section of the template with color-coded sticky notes.
Then, you can add your own color-coded sticky notes to each section and use both sets of contributions to guide your discussion during your scheduled one-on-one meeting. If you choose, you and your employee can also use emoji reactions or comments to indicate which items you would most like to discuss.
Our template includes sections to:
Get to know each other: Instead of jumping straight into work-related discussion, take a few minutes to catch up on life outside of work to build trust.
Increase productivity: Collaborate with your employee to create lists of tasks to accomplish this week and discuss any changes they need to make in their work.
Keep track of accomplishments: You can keep track of tasks they've successfully completed and any career growth milestones they've reached.
Discuss any wins or blocks: This is a great opportunity to discuss anything your employee is proud of or frustrated or struggling with.
Get feedback: You can provide your employee with feedback on what they can do to improve their work performance, and they can provide you with feedback on what you can better do to support them.
While the template comes with pre-determined categories to accomplish these goals, you can easily customize the template according to your needs. You can also use the Note Panel to include any context or clarification that is brought up during the actual one-on-one meeting. That way, the 1:1 meeting template will be a resource for both you and your employee as you work together in the future.