How Russell Group Limited uses Lucidspark to organize remote collaboration
Reading time: about 5 min
As a consultant for Russell Group Limited, Mark Turner has plenty of experience running successful workshops. He thrives in the sticky notes stuck on every wall surface and table top. But the shift to remote work has forced him, like so many others, to rethink how a workshop looks and feels. 
The team at Russell scheduled an important workshop to align around next year's thought leadership plans, but they were unsure how to best approach it. As a result, with less than 24 hours notice, Mark was asked to structure and facilitate the workshop. 
Shifting to virtual collaboration
Mark had been reading The Workshopper Playbook by Anthony Courtney and knew he wanted to try out the 4C's framework with the team. He had the vision for the workshop, but he needed a tool that could make it happen—and he needed to be able to master that tool in less than 12 hours. 
Mark describes: "We've had loads of workshops in the past, but they've always been face to face. Because of COVID-19, we needed to actually run a workshop where people are located all over the country. We needed some sort of common platform to capture the ideas, but we'd never tried this before. As a result, I started searching the Internet for an online whiteboard that we could use to work through the theories that I'd read in the book."
The online search quickly led Mark to Lucidspark, and soon he was experimenting with the product and creating a template for his workshop the next morning. His template revolved around the 4C's framework he had read about, creating spaces on the board for each stage: Collect, Choose, Create, Commit. 
Brainstorming effectively 
The next morning, Mark was ready to facilitate. To introduce the team to Lucidspark, Mark created a "sandbox" on his board so everyone could practice and become comfortable using the product. According to Mark, "they got the hang of it literally straight away, dead easy." 
Now familiar with the board, the team started with the "Collect" section of the template. Mark instructed everyone to add thought leadership ideas to the board individually for ten minutes. Soon there were sticky notes flying everywhere and, when the ten minutes were up, the team reconvened to group the sticky notes by topic. 
Aligning around ideas
Moving on to "Choose," the team used emoji reactions to vote on the grouped ideas and indicate their preferences. The process was simple—a happy emoji if you liked the idea, and a sad emoji if you didn't. Based on this exercise, Mark determined which ideas were most popular and which needed more fine-tuning. 
Taking action 
After determining which ideas to move forward with, the team started working on the "Create" section to decide how to carry out their ideas. Mark had prepopulated questions to get the team thinking, and the discussion took off from there. Online sticky notes filled the board once again as they discussed possible action items. 
The workshop ended with the "Commit" stage. Here the team needed to decide which action items to start with. Using Lucidspark's 2x2 matrix template, they were able to group ideas by impact and effort, allowing them to decide which tasks to do now, which to keep managing, which to ignore, and which to work on long term. Then they set deadlines for their "do now" tasks.
As a participant in the workshop, Manvir Basi, marketing executive at Russell, was pleased with Lucidspark from the get-go.
"Immediately after using Lucidspark for the first time, I really liked it. Right now, everyone is on Microsoft Teams or Zoom, and you get loads of people all talking without something visual to focus on. A PowerPoint presentation doesn't work. But something like Lucidspark is really good for a team session so you can get people focused on ideas and actually generate an output."
He also loves how Lucidspark leaves you with a live document that can house anything and everything needed for the project—you don't need separate Word docs, meeting notes, presentations, or spreadsheets. The board provides a single source of truth.  
Adopting Lucidspark
Immediately after the workshop, Russell's CEO approached Mark and asked about the tool he'd been using. When Mark told him he'd pulled off the successful workshop after only using the product for 12 hours, the CEO decided to purchase Lucidspark licenses for his team that very afternoon. 
Now Lucidspark helps to facilitate and organize brainstorming sessions, workshops, team meetings, and more across the company. While there is a wide range of technical skills across teams, Manvir says everyone enjoys Lucidspark and has been able to use it without a problem. The ease of use and ability to work in a shared environment has been key for the company. 
Manvir and Mark recently teamed up for another internal project. They created a project plan and needed sign-off from stakeholders across the company. Normally, they would need people to read a document or hold lengthy discussions on Zoom. 
With Lucidspark, Mark can now simply create a board outlining all the key information, making it clear and easily digestible. Manvir describes the difference this visual presentation has had, saying: 
"Having Lucidspark was really beneficial for the meeting because it actually raised a lot of questions which people hadn't necessarily thought of, kept the meeting on track, and kept participants engaged."
Lucidspark helped Mark successfully transition to virtual workshops. He says, "I think for me the power was finding two very different things —the book just a couple of days before and the tool which enabled me to put that book into practice. I literally wasn't even aware of the meeting until the afternoon before, and I pulled this all together to make it happen. It was one of those magic moments where everything fell in place." And that magical moment is why Mark now calls Lucidspark "his recommended tool for these new workshops."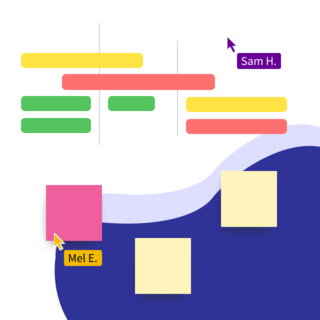 Facilitate remote collaboration in your organization today with Lucidspark.
Try it now
About Lucidspark
Lucidspark is a virtual whiteboard that helps you and your team collaborate to bring the best ideas to light. It comes packed with all of the sticky notes, freehand drawing tools, and infinite canvas space you need to capture that next big idea. And it's built for collaboration. Think of it like a sandbox where your team can bounce ideas around and innovate together in real time.
Brought to you by the makers of Lucidchart, trusted by millions of users worldwide, including 99% of the Fortune 500.